Free Membership




*Free Movies*Free Popcorn* Free Drinks*
 

Join today online or Be sure to sign up on your next visit

!
Please allow 3-4 business days to receive your Customer Card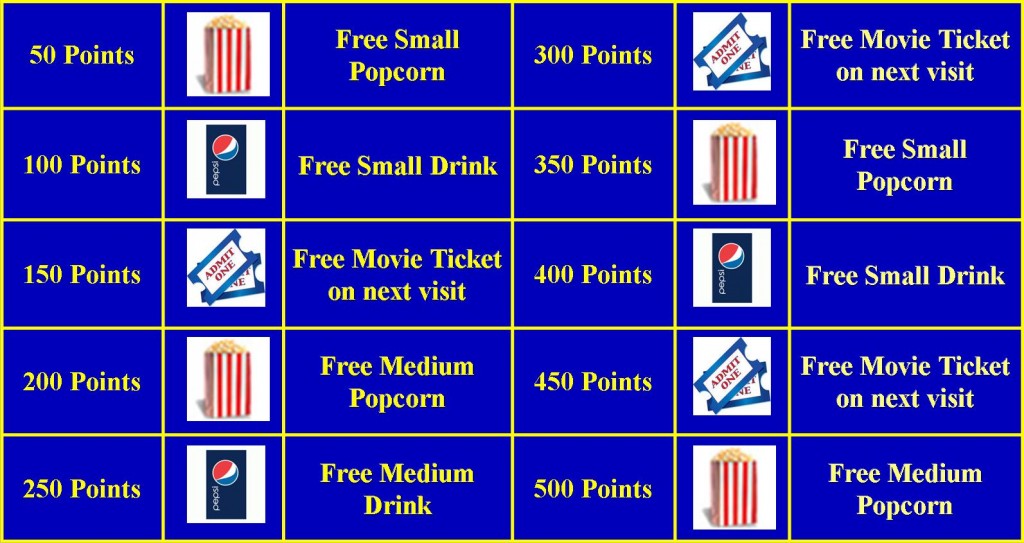 Carmel Cinema Customer Club membership is free and is open to all customers 13 years of age or older, excluding  Carmel Cinema employees and their immediate family members.
*2 Points Earned per Ticket Purchased
*$1 Spent on Concession Items= 1 Point Earned
*Max Points earned per day is 25
*Points are earned when redeeming Gift Cards
*Points are not earned when using any free or promotional passes
Carmel Cinema Customer Club members will receive one point per dollar spent on concession items and two points per ticket purchased. Points are not earned for admissions obtained by complimentary passes, VIP passes, or any other free movie ticket. Members do not receive points for Gift Card purchases or special group pricing.
In order to earn points Carmel Cinema Customer Club card must be presented at the time of purchase.
A maximum of 25 total reward points can be earned daily.
All rewards are available for use on next visit and all rewards are will expire 180 days from the date of issuance.
Rewards have no cash value and are not redeemable for cash. All concession rewards are for the listed size item and cannot be substituted.
The Carmel Cinema reserves the right to change, alter or discontinue the program at anytime without penalty.
Carmel Cinema protects the personal information collected about our program  members. Advertisers and other companies do not have access to personal information and we do not share your personal information with advertisers or other companies that want to contact members.
By joining our Customer Club you are agreeing to receive emails from the Carmel Cinema, we will never send you spam or share your information.
"FREE Movie Ticket" rewards are not valid for special showings or special engagements. Free movie vouchers are not transferable and void if expired, illegible, altered, torn, or mutilated.
Rewards Cards are nontransferable